Camelot 1957 Pictures from Dave Gardner
Dave also sent along a shot of his King Arthur Awar....(d)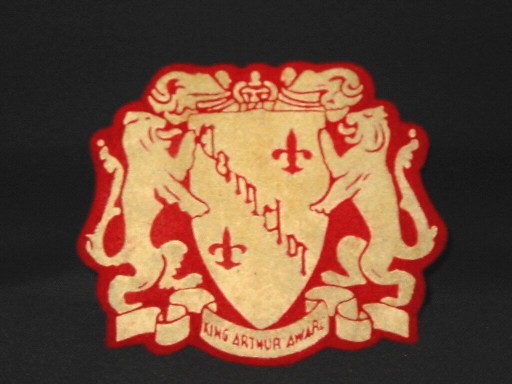 Feb 2007 - Coit Gardner writes to brother Dave:
I just read your comments from visiting the creek with Diane last year. Well written. Diane's comment about "all that was here?" This is a little the way I felt when I visited the site two years ago. And I was a camper there! It was hard to believe how much of the area had been recaptured by the forest.

It is amazing how it has now been 50 years since the wonderful days of youth spent at a facility so lovingly maintained and nurtured. The memories flood the mind and you're right, mist the eyes.
- Catching a rainbow trout on the upper lake
- Seeing a rattler on the tennis court
- Steaming crawdads at the overnite
- Walking to Carlisle each morning at day break. (this was when Coit was a CIT)
- Climbing on the side of the end Carlisle cabin to catch a "Royal Walnut" moth and getting spotted --pervert? (Coit collected moths, and got "caught" one morning at Carlisle when he was trying to catch a specific species of moth).
- 6am picking out the best horse, putting the bit in its mouth, throwing the reins over its head, jumping on bareback and riding through the woods with dewy branches striking you in the face. Exhilarating! How much we miss...but we have memories, memories.
I can't help but think of today's youth and what memories they have of those cherished years. They will have theirs, but they will never be of Camelot.

We were very lucky.

Another vivid memory of the camps was when I was a CIT at Cliffside I played Ave Maria and The Lord's Prayer record in that little hut with the loudspeakers that calmed the little campers that were away from home and made them feel more secure.

I received an electric shock and I yelled #[email protected]&!>@ as the needle scratched across the record and over the speakers.

Coit
-------------------------------------
Dave writes:

One of the other things that is crystal clear in my memory of Camelot is the ICE COLD iron water from the fountain by the basketball court. The iron taste of the water, the copper-color stain in the basin from the iron content..and it was so incredibly cold. What I wouldn't give for a drink from that fountain today.

Dave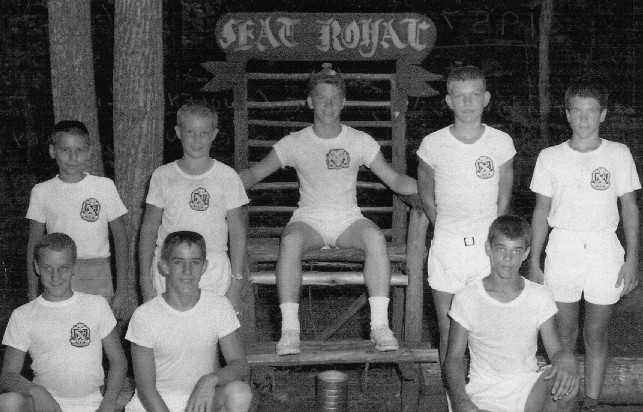 Camelot 1957:
Back Row, L to R: Coit Gardner Jr., Pete Connolly, Kip Trimble (King Arthur), Larry Nixon, Sandy Walters
Front Row: Tom Santrock, Larry Williams, John Chisler