29th - Year Union Carbide Summer Camps Reunion
July 15-17, 2011 - Last Call!
Announcement 2 - June 24, 2011
This announcement updates the May e-mail (see below) and provides added details on the Friday evening reunion event.
There will be a casual Friday, July 15 get-together at Shuckers in St. Albans. Shucker's is recently remodeled, and very open with lots of room for our group even if lots of people attend! It's air conditioned. The menu is extensive, with seafood and Italian specials and other regular bar-food fare. We have reports that the food is good. There's free parking on Main street and plenty of free parking in the back (with a back entrance).
We have reservations for 6PM. The restaurant will prepare separate checks but will add a gratuity of 15%, so campers don't also need to leave an extra tip (unless you're really impressed)! So get out your GPS or Google Maps and key in:
Shuckers
70 Olde Main Plaza (opposite the old Alban Theater)
St. Albans, WV 25177
304.722.1500
Just take Route 60 (McCorkle Ave.) out of South Charleston, down the river past Dunbar and even-more-scenic Jefferson, WV. In St. Albans, turn left on 3rd Street and right on Main. (See map below.)
Even more casual on Saturday, July 16, to the Creek -- rendezvous at the Hunting and Fishing Club (click here to see the maps). Saturday night camping on the creek for those who want to - everyone is on their own for food, beer, etc. on the Creek.) We're keeping it very casual and inexpensive and no-host this year, saving up for next year's event:
We'll be doing some preparing for 2012 - The BIG 30th Carbide Camps Reunion!
Help us plan a great party!
--------------------------------------
...and we'll once again re-encounter the spirit of the Camps -- whether our memories are fueled by the stories and legends of the native Americans or the Round-Table knights, we all belong here.
"... this is the heart of the Carbide Camps; not these stones, not these timbers, these palaces and towers. Burn them all and the Camps live on, because they live in us. Camelot, Carlisle and Cliffside are beliefs that we hold in our hearts."
...Arthur, in "First Knight; paraphrased.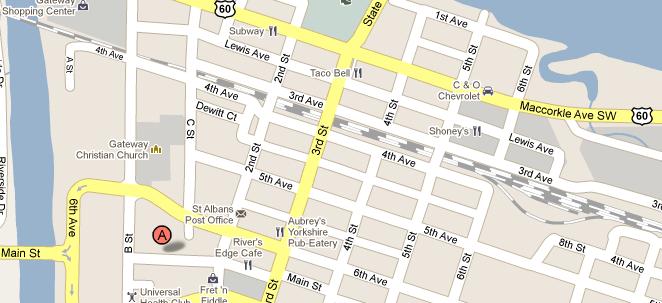 --------------------------------------