Michelle Grimsley Tallman - 1977 Carlisle memories
Scroll Down! Lots of goodies here!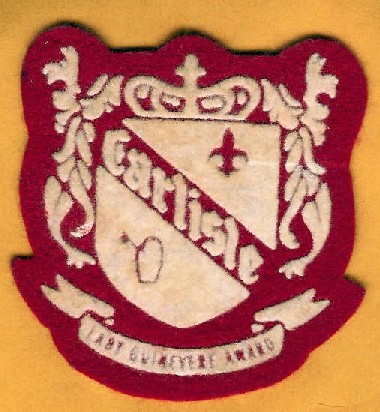 Click here to see the Carlisle 1977 4th period newsletter!
Click on a thumbnail below for enlargement and slide-show buttons.
Pic01.jpg
Carlisle corral with horses (Wayne - beige, Kay - brown)

Pic02.jpg
Clown Day (me - upper left photo, Libby ? - lower photo foreground)

Pic03.jpg
Dressed up for the "Kiss" concert

Pic04.jpg
Teresa Debrul singing lead in the "Kiss" concert

Pic05.jpg
Evening entertainment in the Castle (Sheila ? on the right)

Pic06.jpg
The Castle in preparation for a dance? Notice the paper walls with painted rocks and the sand "drawbridge to the entrance. I think this was one of Kay's inspirations!

Pic07.jpg
On Sunday (half way through the 2 week session) we brought everything out of the Wings for deep cleaning. This picture is taken in front of Wings 1-2-3 on the sidewalk where we were sorting through our footlockers.

Pic08.jpg
I am so bad with names. But I remember these faces well. We were getting ready for Sunday vespers.

Pic09.jpg
More pictures of Sunday...cleaning, airing out the sleeping bags, relaxing, writing letters. I believe that is Alicia Arthur? on the left. Both of these girls were repeat campers and repeat honor campers.

Pic10.jpg
More pictures of Sunday...don't know these names either.

Pic11.jpg
Cindy Yelton at the top of the hill (walking back to the buses). Who are the guys in background?

Pic12.jpg
Merge Yelton, Cindy Yelton, Libby ?, Peggy Garska at the top of the hill.