The Barna family sent a variety of pictures, most clipped from 1966-67 issues of what was then "The Carbide News" and some later photos also.
Thanks!
Just click on the thumbnails to see larger pictures, most with the original captions from the Carbide News.
Use the "back" key to return here.
Corton postmark - Note this was a small 'burg between Clendenin and Procious on Elk River Road north of Blue Creek. I don't remember it; all our mail in the 50's went through the town of Quick. Notice the 5-cent stamp (1967)!
Maybe the rail trip we took in the 50s to get to the camps (up Blue Creek from Quick and Sanderson) was gone by then, and this was the better road, coming in from upstream...?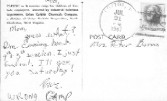 Testing Dynel Tents at Camelot


A group of future equestrians at the Camelot Corral.

Postcard - Dave Barna was ready to return for JC duty at Camelot, but only had a Carlisle card.
Can anyone scan and send both sides of the Camelot version?