Before I lose your attention:
I am deeply moved that we web-people, Randy Rice and I, seem to have resonated with some of our contemporaries, those Carbide camps alumni who share with us a healthy sentimentality for a simpler time, perhaps a little less fraught with consequences. The fact that some of our guests admit to being moved to tears as they were transported back "a few" years toward the summer-camp experience is further evidence to us that these scrapbooks are worth while. Many have lamented that the Carbide camps are unavailable for their children.
(I admit also to being a little out of control when Scott Mease's "last photographs" of Camelot and Carlisle arrived, and when I visited the now-empty campsites later to take my own pictures.)
But -- Perhaps the Charleston Newspapers' Karin Vingle Fuller has it right: Yes, it's OK to be misty and reminiscent, but we need to remember that there are today-opportunities for the camping and mentoring experiences for the later generations -- not exactly the same experiences we had, but no doubt just as valuable. We need to support the "Send a Kid to Camp" program.
Your webmaster: Robert W. Lilley, Santa Barbara, CA (Cliffside 51-53, Camelot 54-56, JC Camelot 57, CIT Cliffside 58)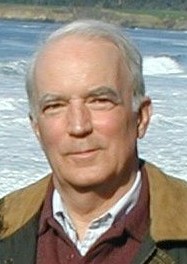 Announcer and disk jockey, Charleston, West Virginia, 1958-59, for stations WHMS (1490) and WKAZ (950) in the 1950s.
Graduated South Charleston High School 1959. Engineer In Training, Esso Refineries, Southampton, England, 1959. Undergraduate at University of Illinois and Ohio University. Graduated at Ohio 1963 in Electrical Engineering.
Led Ohio's Radar Hill Laboratory satellite tracking operations while earning MSEE in 1967. Ph. D. in 1974. Ohio University Computer Center staffer and later Director from 1963 - 1974. Avionics Engineering Center staffer, Asst/Assoc DIrector and Director through 1997. Licensed instrument-rated commercial pilot. Co-recipient of first FAA Excellence in Aviation award, with colleagues from MIT and Princeton University.

Served as President and long-time Board member of the International Loran Assocation (Long-range land, sea, and air positioning / navigation) - co-organized annual conventions in US, Canada, Japan, France and England.
Married Ellen Kiesel (BEd Ohio '63, MS '82) in 1964; we have two daughters and several grandchildren. My sister, Ruth, was at Cliffside and Carlisle about 4 years after me, and was Queen Guinevere in 1959 I believe.
Retired from Ohio University in 1997 following a Visiting Professor term in Nagoya, Japan, and joined Illgen Simulation Technologies in Santa Barbara, California as Vice-President and Chief Engineer with the goal of bringing the company to market. In 2003, Illgen was purchased by Northrop-Grumman Corp. – a good thing! Then Program Manager and Senior Engineer with Northrop-Grumman in Santa Barbara followed by navigation-systems consulting with Aviation Management Associates of Washington, DC.